Aortic Disease and Intervention
Computational Simulation of Transcatheter Aortic Valve Replacement (TAVR)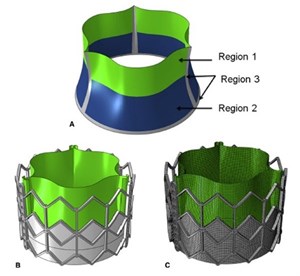 Aortic stenosis (AS) is the most common heart valve disease encountered in the elderly. The aortic valve leaflets become restricted due to excessive calcium buildup. In the past, surgical aortic valve replacement (SAVR) was the gold standard to treat patients with severe AS, which entailed opening the chest and placing the patient on cardiopulmonary bypass. Today, many patients are eligible for a minimally invasive alternative therapy called transcatheter aortic valve replacement (TAVR). In TAVR, an expandable bioprosthetic aortic valve is delivered to the diseased aortic valve via percutaneous access. TAVR has revolutionized the treatment of AS, and the latest PARTNER 3 and Evolut Low Risk trials show strong promise for TAVR as effective therapy for even the lowest risk patients with AS.
However, many questions remain as TAVR becomes increasingly utilized. One unanswered question is TAVR durability, which is believed to be shorter than the surgical bioprosthetic aortic valves given thinner leaflets. Over time, bioprosthetic valve leaflets will degenerate or 'wear out' leading to stenosis or insufficiency. Second, the entity of subclinical leaflet thrombosis has been observed in 10-15% of TAVR patients, which may place patients at risk for stroke.
Ascending Thoracic Aortic Aneurysm and Dissection
Approximately 30,000 people in the US are diagnosed with thoracic aortic aneurysms every year. Patients that experience the devastating event of rupture or dissection face up to 60% mortality.
Currently, aTAA elective surgical repair is based primarily on aneurysm diameter or growth rate, with a ≥ 5.5cm diameter threshold for surgery in patients without connective tissue disorders or family history of dissection, rupture, or aneurysms.
However, studies have demonstrated that a majority of aTAA rupture/dissection occurs in patients with aTAA diameters < 5.5cm. Alarmingly, significant numbers of patients are at risk for aortic dissection but have aTAA diameters under the cutoff for elective surgical intervention. Patient-specific aneurysm wall stresses determined from computational modeling holds great promise for elucidating patient-specific risk of aTAA dissection.
The Ross Procedure and Pulmonary Autograft Biomechanics
For the pediatric and adolescent patients diagnosed with aortic valve disease, a major challenge is determining the optimal surgical treatment. Bioprosthetic tissue valves degenerate over several years, while mechanical valves necessitate anticoagulation. Both of these also pose additional dilemma for the growing patient, and require repeated surgery to implant a larger valve. The Ross procedure is the only procedure that transplants a living valve to the aortic valve position, using the patient's own pulmonary root and valve termed the 'pulmonary autograft.' With excellent hemodynamics, no need for anticoagulation, and a valve that can grow with the patient, the Ross procedure seems to offer an ideal solution for these patients.
However, the Achille's heel of the Ross procedure is autograft dilatation, plaguing up to 25% of cases, which can lead to aortic valve insufficiency and aneurysm formation. The implications of taking pulmonary arterial tissue, which in its native setting experiences blood pressure in the range of 25/8mmHg, to the aortic position where it experiences pressures of 120/80mmHg imparts drastic changes on the pulmonary autograft's wall stress. Given the native differences in the material properties and histology of the pulmonary artery versus aorta, coupled with pressure differences, a remodeling process is triggered. By characterizing pulmonary root material properties, and modeling dilated and non-dilated pulmonary autografts both ex-vivo and in-vivo, we will uncover how biomechanics contributes to this pathological remodeling process.
Transcatheter Aortic Valves
Aortic stenosis (AS), due to accumulation of calcium in the valve leaflets, is a major heart valve disease encountered in the elderly. Surgical aortic valve replacement (AVR) is still the gold standard to treat patients with severe AI or AS. AVR is performed with excellent results, including low mortality and good long-term survival. Recently, percutaneous aortic stent valves have been implanted clinically in select patients. However, they have not been rigorously evaluated with respect to their biomechanical interactions and effect on blood flow.
The first human percutaneous TAV implantation was performed in 2002 by Alain Cribier. Two TAV designs have since been investigated in clinical trials: Edwards Sapien, a balloon-expandable, stainless steel stent housing bovine pericardial valve leaflets; and CoreValve, a self-expanding nitinol stent with 21 mm pericardial valve. Overall, TAV has 73-100% implant success and procedural mortality of 2-14% in patients with predicted surgical mortalities of 12-31%.
Studies done on endovascular aortic grafts for abdominal aortic aneurysm on cadaveric aorta has provided insight into the properties and migration forces of various endovascular aortic grafts. Percutaneous valves may have a substantial impact on the care of patients clinically with aortic stenosis. These valves are being tested clinically in humans, but little research has been performed experimentally in pulse duplicators or with computational simulations to determine more long-term effects. In addition, these valves have been proposed to treat bioprosthetic degeneration.
Passive Constraint
The Acorn CorCap TM Cardiac Support Device (CSD) (Acorn Cardiovascular, Inc., St.Paul, MN) is a bidirectional woven polyester yarn jacket placed over the left (LV) and right ventricles (RV) in patients with dilated cardiomyopathy and heart failure. The underlying hypothesis is that the CSD will reduce strain and stress associated with progressive ventricular dilation. As a consequence, LV remodeling will halt or reverse cardiac remodeling, and systolic LV function will be chronically improved.
Pre-clinical studies showed that the Acorn CSD reduced end-diastolic volume without an increase in end-diastolic pressure or chamber stiffness. Surprisingly, the Acorn CSD also reduced end-systolic volume, improved isolated myocyte contraction, improved the affinity of the sarcoplasmic calcium pump SERCA2a for calcium, and increased the ejection fraction response to dobutamine. There was also evidence that the Acorn CSD altered post myocardial infarction remodeling, presumably by decreasing stress on the infarct border zone.
A randomized clinical trial of the Acorn CSD has been completed. As in pre-clinical studies, both end-diastolic and end-systolic volumes were decreased and there was an improvement in heart failure class. These findings occurred when the Acorn CSD was used alone or with mitral valve surgery. Despite the numerous pre-clinical and clinical findings, the exact mechanical effects of the Acorn CSD on ventricular wall stress remain unknown.
Left Ventricular and Mitral Valve Disease
Ischemic Mitral Regurgitation
Ischemic mitral regurgitation (MR) affects 1.2 to 2.1 million patients in the United States, with more than 400,000 patients having moderate-to-severe MR.  Chronic ischemic MR of 2+ severity discovered at cardiac catheterization for symptomatic coronary artery disease has a 1-year mortality of approximately 17% and the one year mortality for 3+ and 4+ ischemic MR is approximately 40%.
Ischemmic MR is usually managed with mitral annuloplasty alone.  However, the need for surgical therapy and the type of surgical therapy remains unclear.  For instance, the type of annuloplasty (flexible vs. rigid, complete vs. incomplete) is controversial and the role of surgical remodeling with devices including the Acorn CorCap and Coapsys is unclear.
Surgical Ventricular Remodeling
Initially described by Dor in 1989, endoventricular patch plasty (Dor procedure) is used to reduce left ventricular (LV) volume after myocardial infarction (MI) and subsequent LV remodeling. Briefly, the infarct is incised and a purse-string suture (Fontan Stitch) is used to reduce the circumference of the aneurysm "neck". A patch of either autologous or synthetic material is then sewn to the edge of the aneurysms neck thereby reducing LV volume.
The Dor procedure can be performed safely. However, the NIH-sponsored Surgical Treatment for Ischemic Heart failure (STICH) trial recently found no difference in composite outcome between coronary bypass (CABG) and CABG plus Dor procedure. The authors speculated that improved systolic function was balanced by worsened diastolic function. On the other hand, even if pump function is not improved, the Dor procedure may have important effects on stress, strain and contractility in the infarct borderzone (BZ)
Borderzone Dysfunction
It has been known since the mid 1980s that systolic performance (systolic shortening and wall thickening) is depressed in the non-ischemic borderzone (BZ) after antero-apical myocardial infarction (MI). It was initially thought that the reduced BZ function was due to mechanical tethering by the infarct. However, finite element based inverse calculations of regional contractility (i.e., active force/stress development), in which optimization routines attempt to match computed and experimentally measured LV volume and strain, suggest that BZ contractility is reduced by more than 50%. Moreover, BZ contractility appears to vary linearly across the BZ and the BZ may be as much as 3 cm in width after antero-apical MI. Finally, preliminary calculations in a single sheep suggest that borderzone contractility is depressed after postero-lateral MI.
Research Tools
Bi-axial Stretching Apparatus
Finite Element Models
a. Left Ventricular (LV) Model
FE models of the LV that incorporate myocardial contractility have been described and used to determine the effect of myocardial infarction on structure and function. We believe that large deformation finite element models of the LV are extremely powerful because of their ability to accurately calculate stress in the myofiber direction [Zhang et al, Ann Thorac Surg, In Press].
More important finite element models of this sort can simulate the effect of 'virtual' surgical procedures. For instance, we recently determined the effect of adjustable passive ventricular constraint on wall stress and pump function [Jhun et al, Ann Thorac Surg, 89:132, 2010].
Also, we have recently described a method for determining myocardial material properties non-invasively using FE modeling and optimization [Sun et al, J Biomech Eng, 131: 111001, 2009]. That method was subsequently used to determine the effect of the Dor Procedure (above) on the contractility of infarct borderzone [Sun et al, J Thorac and Cardiovasc Surg, 140: 233, 2010].
b. Model of the LV + Mitral Valve
There have been numerous FE modeling studies of the aortic valve, either as a bioprosthesis or as native tissue. In contrast, the mitral valve is structurally more complex and includes the contracting left ventricular (LV) wall as a structural element. As a consequence, most FE models of the mitral valve assume that the papillary muscles are fixed in space. Examples include the work of Kunzelman et al, who generated the first FE model of an isolated mitral valve. Finite element models of the isolated mitral valve have now been used to determine the effect of artificial chordae on valve deformation, the effects of leaflet and annular curvature on leaflet stress, and the effects of innovative annuloplasty ring shape. More recently, modeling of the mitral leaflets has become more realistic and fluid structure interaction (FSI) has been added.

Recently we described the first model of the LV with mitral valve. The model was based on a sheep with a posterolateral MI that had developed 2+ ischemic MR [Wenk et al, Ann Thorac Surg, 89: 1546, 2010]. That model is currently being used to model the effects of undersized annuloplasty ring.
c. Biventricular Model
First Realistic Finite Element Model of Regional Biventricular Mechanics in a Patient with Tetrology of Fallot
Magnetic Resonance Imaging (MRI)
Our experimental method is cardiac MR imaging with tags.  MR images are contoured and used as the basis for finite element models.
In addition, 3D strain is calculated from the tag lines.  3D myocardial strain before and after surgical remodeling has inherent value [Zhang, et al, J Thorac Cardiovasc Surg, 134: 1017, 2007] but we also use the calculated strain as the 'gold standard' when optimizing material properties.